It's Bootcamp Time! On the 25th of February 2023 we will have the Global Power Platform Bootcamp 2023 – Belgium Edition. This time it is organized in collaboration with Club Power BI and dataMinds. GPPB is characterized by its plethora of deep-dive (Level 200 and higher) Power Platform content delivered by Community -and Industry Leaders, MVPs and Rising Stars.

This will be the first time post-COVID that we will be hosting GPPB in-person. Sessions will NOT be recorded, nor will they be streamed. So, physical attendance is required to take part of this amazing experience.
Do note however, as of this writing tickets are sold out. Nevertheless, a waiting list (link) has been activated. If a seat becomes available, you may still have a chance to attend.
If you haven't yet taken a look at the agenda, do so via this link.
By the way, have you seen the list of Rockstars? Read their story by visiting the Speakers Wall.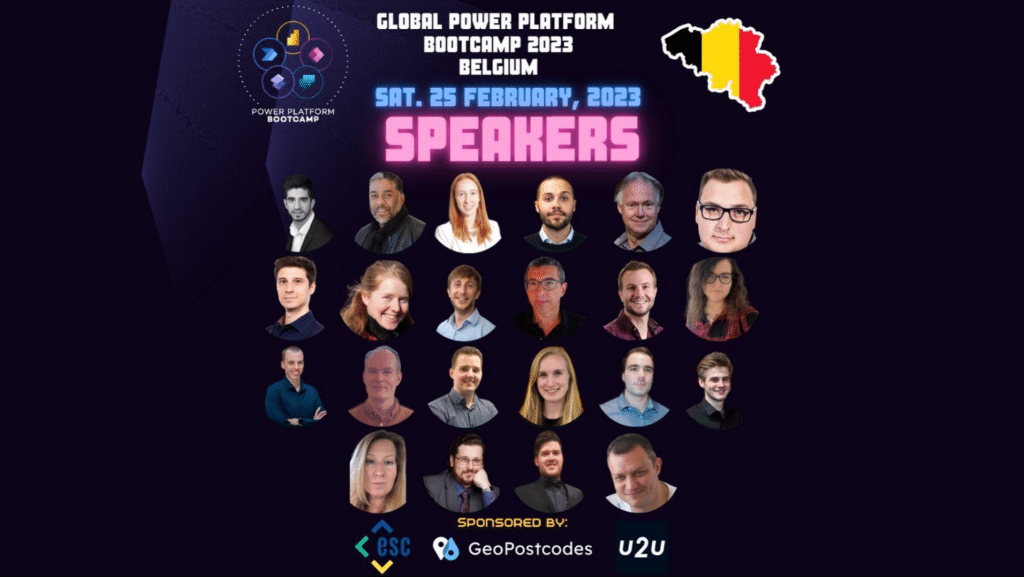 We will be closing off the event giving away 2 FREE Tickets to the European Power Platform Conference. So, make sure to attend and get a chance to be the lucky winner!
A special shout-out to our Event Sponsors ESC, U2U and GeoPostcodes for making this possible.
We can't wait to welcome you on the 25th of February at the Global Power Platform Bootcamp 2023 – Belgium Edition, hosted at ESC. See you there!
What: Global Power Platform Bootcamp 2023 – Belgium Edition
When: 25th of February 2023 starting at 09:00
Where: Kortrijksesteenweg 1093 C, 9051 Sint-Denijs-Westrem, Ghent, Belgium